CE2
What a great weekend, where to begin? Lots of cool moments, but i will remember the event because of the other builders and their droids. A wonderful bunch of people. I felt very relaxed and in good company at all times. :) And the droids were great, lots of cool stuff on the way. :) At least 5 2-3-2 systems on the go, all using slightly different methods. And lots of plans to advance things, it has worn me out. But after a recharge I will just have to keep pushing on too. :) Good luck everyone, i look forward to reading your progress. :) The other thing is the kids, they do love R2, in the droid play pen on the stand they would lean in and stroke him, it was like being a zoo animal, but they loved the droids, i spent quite a bit of time driving in there.
Thanks to Arnd and Bernd and all the German guys, they did a superb hosting job. The stand was great and lots of variation for the public to see.
But also thanks to the UK guys, all superstars, a great week, with great friends. Some fine work all week long. So many fun moments and about 3 million Star Wars references along the way.
R2: A few lessons from this weekend. The 30Ah 5v packs i bought seem to last less time than the 12Ah ones i have, so may need to try some others. The packs also were only lodged in and so on 3 occasions i hit a bump while driving and the battery hit the power switch, not good, he just retains the last signal. One builder's leg at low speed (sorry Michel) once while dancing in a spin. And once while reversing. All luckily with no damage or major trouble. So i then taped the batteries to the main battery and it was fine for the rest of the event. I have a plan to totally avoid this issue, will do that next.
R2's drive was a problem this weekend. It started on the Thursday, in the press conference the drive started rubbing and he was ripping through power. But with a bit of WD40 we struggled on. Then disaster, R2 stopped driving on 1 side. So i got the legs off and found that the keyway stock was missing from the drive cog on one foot. So long story short, by locking one of the grub screws into the keyway i managed to lock it, and it lasted the event. But while off i saw how badly the wheels were rubbing, so went hunting for 4 screws and a drill. Felix had the drill, Bernd had the drill bits, and Heiko had the screws, i popped a pilot through the wheel hub into the derlin hub to lock it, worked perfectly. Big thanks guys. Couldnt have carried on like that :)
After that the battery lasted really well, so by the end of the event i was starting to trust him again. Little bugger. He has been pretty good recently, but every issue makes for a safer droid. So id rather find an issue i can solve with no damage than have a good event and still have a hidden issue.
So i didnt drive him about as much as usual, but still had fun with him, the pen was a great idea. :)
Here are a few photos i borrowed: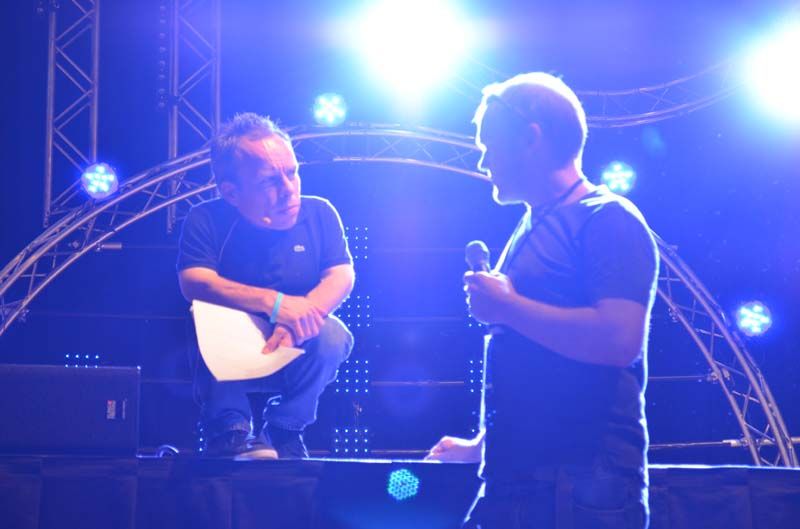 Me getting interviewed by Warwick Davis ;)
Flip, happy abut something.
Russian TV girl, she was dancing with R2 and shook his hand. :)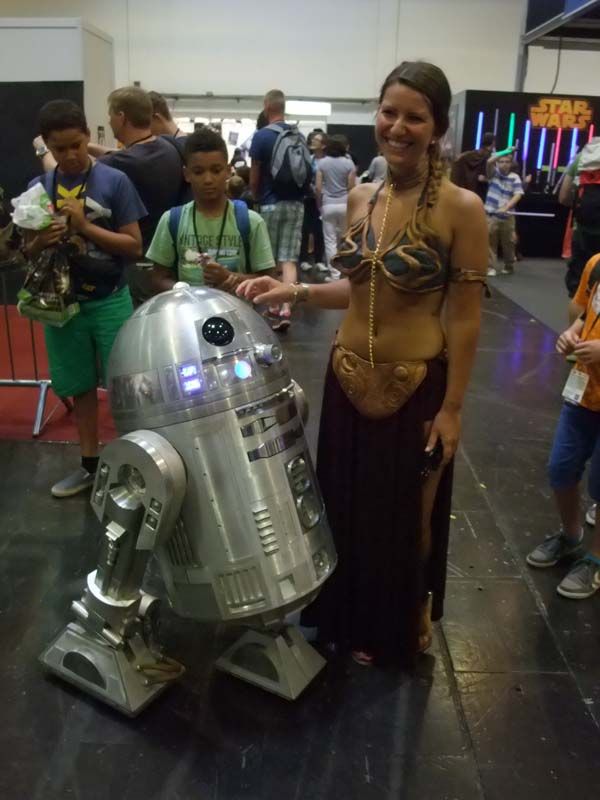 Slave Leia :D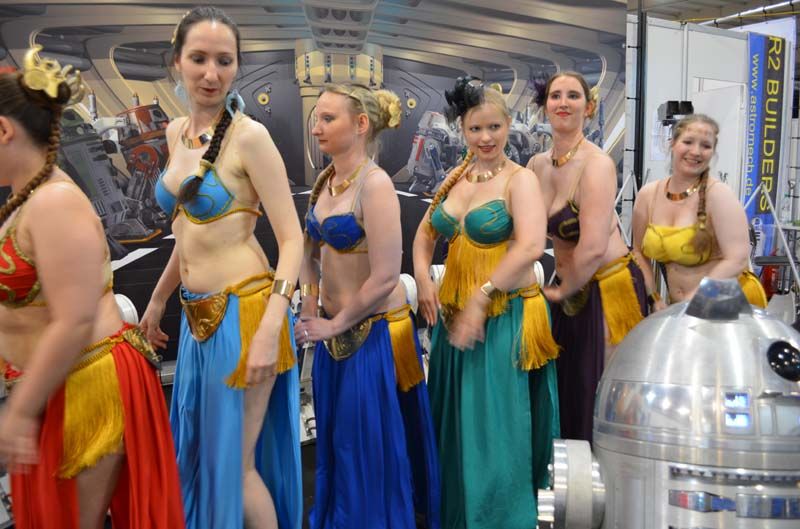 R2 leading a troop of 6 dancing Canteena girls. :D Good work R2.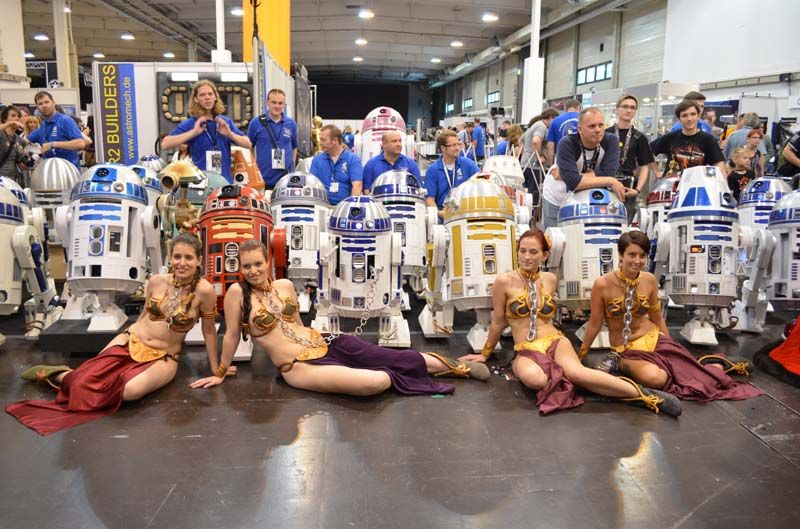 Anthony Daniels and the Droids. :)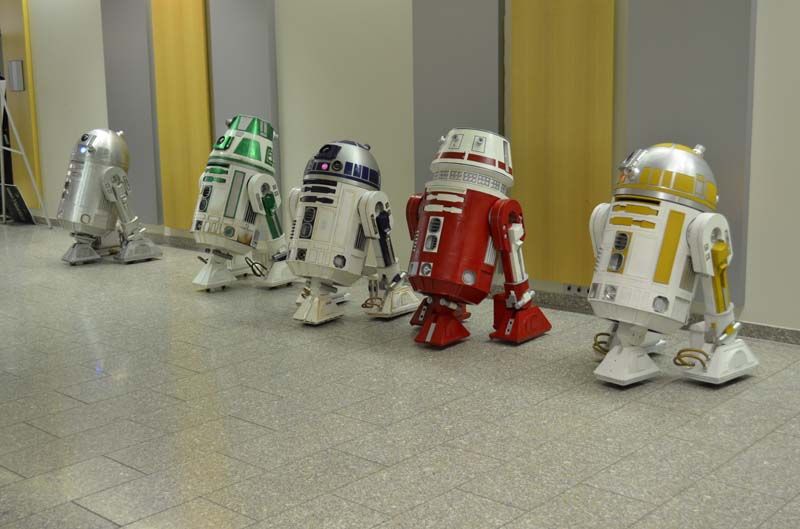 The press conference waiting area droid line up. :)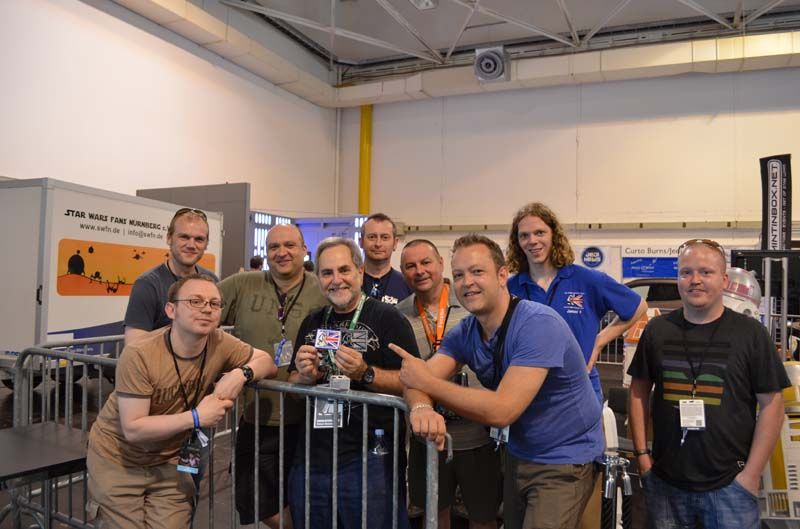 Steve Sansweet with UK builders patches. :) And the UK group. :D
Clone Wars designers filming my droid. :D
Kenny Backer, UK R2 Senator, proud moment for the UK guys. :)
Dont forget to subscribe while you are there. :) I will keep liking all the vids i find. :)