A little more focus for the rest of the weekend. :D
I started by removing all the doors, cleaning up the pads and then reattaching them, 2 years of flapping hasn't been gentle. This time i added a padded tape instead of the VHB, i hope that will add a little damping, but they now all sit perfect;y again, and should do me the next 2 years no problems.
Then I had a look at fitting the Magic panel. I marked the inner dome section seen through the trim piece, then marked up the hole needed, basing it on the trim piece so that it was all nice and central. Then I covered the surrounding area in gaffa tape to protect the surroundings and got the dremel out.
So hole cut and everything fitting nicely. So I applied the stickers and popped it all in place. The lens was too far out, maybe .75mm. So after a little play, I added some thick tape to the panel mount and stuck it into the dome using that. All now sits beautifully and I'm really pleased with the result, it is more than strong enough and should allow it to be removed if needed. I hope a little age will help blend it in better, but it already looks fine.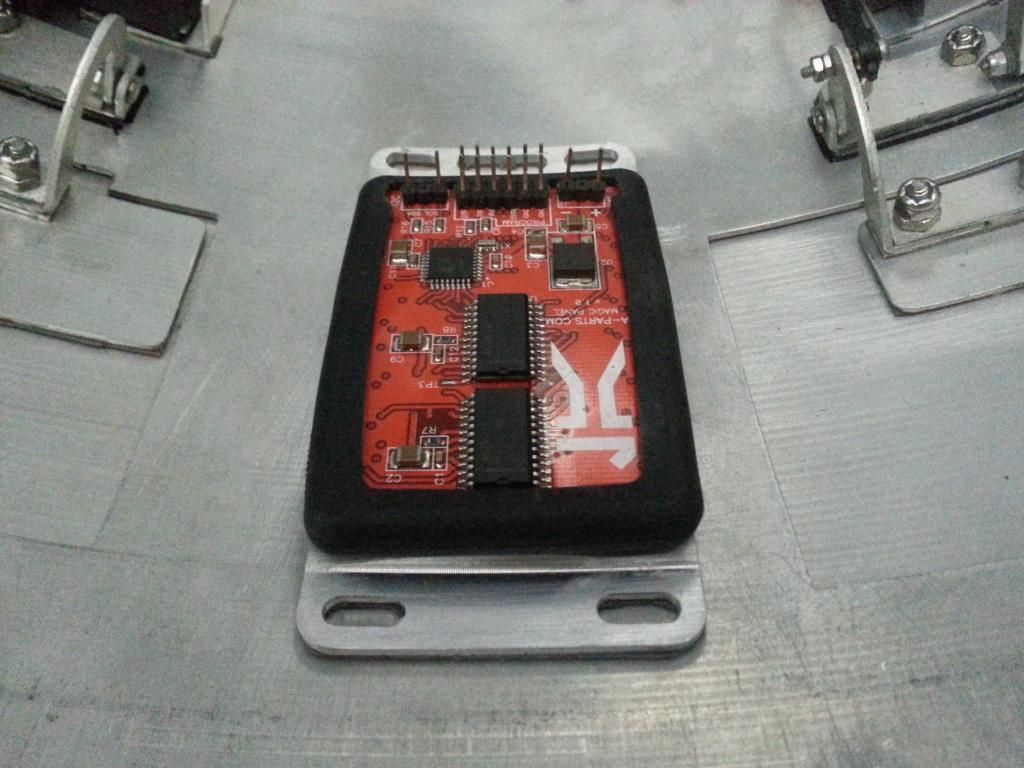 I then started to look at connecting it up. I also have the Dome Bump Controller to connect, so i thought id look at the whole dome wiring set-up for the 5v and I2C in the dome.
Thing that jumped out at me was the Servo/HP unit. I was using a Mega and a mini breadboard, this was my test set-up and had just worked, so i hadn't refined it. But the Mega wasn't needed and the wires keep shaking lose or getting pulled out as i fish about in the dome.
I found an old Nano i had used before, and made up a nice neat little shield for it to allow all the needed connections. The space saving will be superb and the connections shouldn't shake lose now. :D Here is the before and after:
Next was the power and I2C for all the dome units. I flipped the Slip ring board mount so that that was better protected, and decided to use the bottom sections of the PCB as the I2C bus and the dome battery 5v bus. I then set about chopping wires and re-routing stuff, Almost there now, just a few more bits to connect and tidy and i can give it a test. :D
Then finish the finer points of the coding for body servos, Magic panel, dome bump controller and master, a shed load of testing and i will be ready for FACTs, and free to get back to the upgrades. :)