I finally got to do the news scripts. :D Slow progress, but the body was a dream, that new wiring is amazing. :) Dome is still hard work.
I started by looking at what i wanted to achive and the audio i had. I had 11 clips i wanted to add as extra random sounds. Several very cool R2 mashups from Trooper Trent on .net, and i was on a mission. James came over and we started cutting the tunes to make shorter dances, I also PM'd R2-X2 and borrowed his Addams Family mp3. Superb stuff. thanks Dudes. The Gangnam Style audio was easy because we used the start, but the some of the others wouldnt work. So i decided just to trigger the Vegas and the Audio, then added to the Scream call to stop the Vegas as well as the track. So at any point you can scream and stop on some.
These were the eventual additions: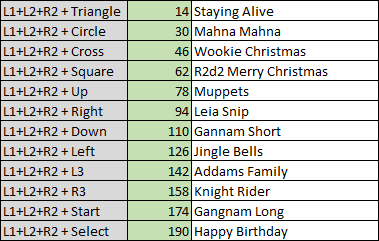 Happy Birthday (2 versions), Jingle Bells and Leia snip ('Help me Obi-Wan Kenobie, you;re my only hope' quote, this one is also added as a random) is just the audio call.
Staying Alive, Mahna Mahna, Wookie and R2 Christmas and Gangnam long use the Start and Scream trick, with Gangnam Long also starting with the Gangnam Sort door dance.
The big all singing all dancing additions are the Muppets short, Addams Family, Gangnam style (both short and long start the same, but long doesnt do the dome motion).
Should be more fun with various options instead of just the good old Cantina.
First vis is the Gangnam short, with no input from me, with 2nd half being the Staying alive and me controlling the dome and doors:
This one is the Muppets and Addams Family, R2 and Wookie Christmas:
I would give it a week for me to test and upload fixes to be sure, but seems great, so the code is now on my drive, the link its to the right at the top of the blog page. This will all run on the BHD2.0 wiring, it is just code and maybe a few tweaks to the relay setup, but im not sure that wasnt due to me wiring it wrong to start, i looks the same as the doc to me. :D
That said, after facts i will update the doc and add the new stuff and features.